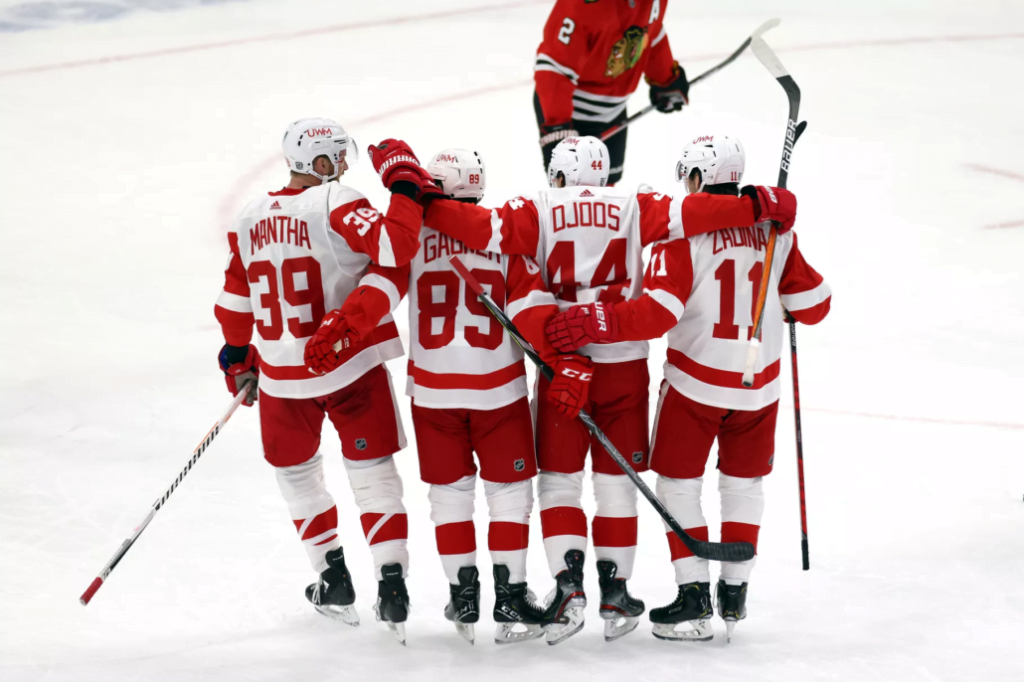 Photo by Robin Alam/Icon Sportswire via Getty Images
It is no secret that our beloved Detroit Red Wings had been in a power play slump, unable to score on a short-handed opposing team for 40 consecutive attempts. But because the Wings have the best fans in the world, Hockeytown rallied to turn their team's predicament into a good cause, raising nearly $15,000 for the Jamie Daniels Foundation!
Embodying the spirit of Detroit, a Reddit member of the Detroit Red Wings subreddit at username u/Denver_Law14, suggested members provide a group donation to the Jamie Daniels Foundation based on the Red Wings power play woes. For each missed power play opportunity, fans would donate $1. The foundation was chosen in support of Red Wings Lead Announcer, Ken Daniels who is a co-founder of the Jamie Daniels Foundation and started the initiative with Jamie's mother, Lisa Daniels-Goldman, after losing their son to an overdose in 2016.
Jamie Daniels Foundation Power Play Challenge! from r/DetroitRedWings
The idea was then brought to Twitter by Prashanth Iyer, who is also the co-host of Wings For Breakfast podcast from The Athletic Detroit, on Friday, February 26. From there it went viral with the effort being discussed on several popular podcasts and radio stations.
On Saturday, February 27 in a game against the Chicago Blackhawks, Red Wings' Christian Djoos finally broke the team's power play slump. As a result, more than 280 individual donations were made to the Jamie Daniels Foundation in the average amount of $40.
This generous grass-roots campaign is representative of the heart of Detroit and comradery of the Red Wings community, which has been incredibly supportive of the foundation and the Annual Celebrity Roast. Not only has this power play push raised important funds, but because of its momentum, it has raised awareness about Substance Use Disorder and our message at the Jamie Daniels Foundation which will inevitably make a difference for so many.
With Hockeytown's support, we can continue working toward ending the stigma associated with Substance Use Disorder, provide substance use prevention support, and resources to individuals in recovery. Thank you to all those who were involved in this compelling act of generosity. Together, we can do more. LGRW!
If you'd like to make a gift to the Jamie Daniels Foundation, please click here.