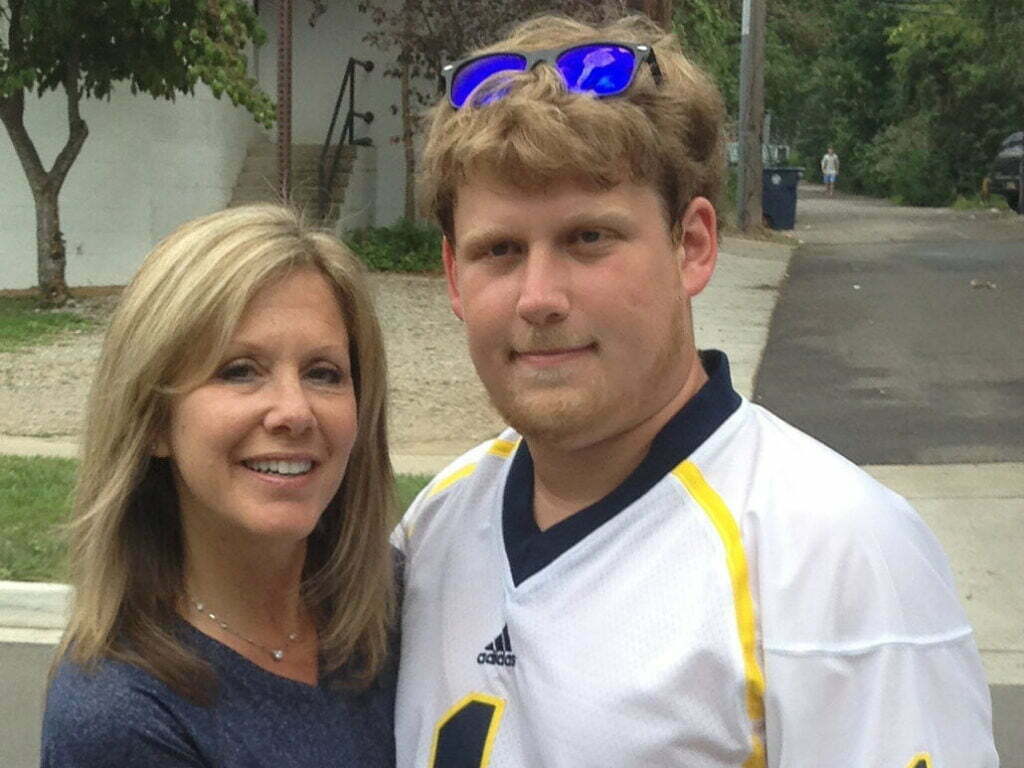 Zach Berlin was curious, charismatic, and approached life with an all-or-nothing mindset. He loved sports, especially football, and being outside with nature. At a young age he developed a strong interest in science. Smart and ambitious, Zach achieved his life-long goal of attending University of Michigan, graduating in 2014 with a Bachelor of Science in Biopsychology, Cognition, and Neuroscience.
But for someone who excelled in school with ease, college was an awakening and more challenging than anticipated. During those years, Zach and his friends escaped stress by experimenting with drugs and alcohol, thinking they were invincible and telling themselves "This is college!"
Zack considered his opioid use recreational but due to their highly addictive nature, he eventually developed a substance use disorder (SUD). After graduating college at age 22, he moved home with his parents who did not notice his issue – partially because they were not looking for one.
"We had no idea," said Sue Berlin, Zach's mother. "We didn't know much about addiction or opioids, so we never thought it might be a problem for our child. In retrospect, he always had a reason to borrow money and got into a few car accidents, but his explanations seemed to make sense."
Sometimes symptoms of opioid use are difficult to identify. They often include drowsiness, cravings, flu-like symptoms, and new financial difficulties. Though because of stigma, individuals struggling with addiction hide their condition which prevents them from getting necessary treatment.
For these reasons, symptoms of opioid use can easily go undetected and loved ones are unsure how to help.
It wasn't until Zach confided in his primary care doctor that his family learned he was using. Even then, Sue and Zach's father were unsure how to handle the situation. At this point, Zach wanted to get better and was committed to the process. He went through detox independently at home with the support of his parents and decided to regularly see a therapist and psychiatrist.
Things were looking up – he was really excited about his first job selling insurance and new colleagues, but it wasn't long until he realized this career path wasn't the best fit for him. He maintained sobriety for just over a year before relapsing.
Having been through it once before, Zach's parents knew signs to look for and Zach was less secretive about hiding them. His symptoms became more obvious to the household.
"He got really moody and would come home and randomly throw up. He told more stories and worked every angle – this was not Zach. Then there were more car accidents, and he eventually got a DUI for sleeping while parked because he was high."
Zach's struggle with opioids was scary, uncertain, and left him and his loved ones feeling helpless. After an intervention from friends and family, Zach agreed to enter treatment.
"We felt very lost during the processes and transitions of him to go to rehab, getting out of treatment, and moving into recovery housing. We had some resources and did our own research, but we had never been through this before and were hoping to rely on the support of those at the treatment center, which we didn't end up getting."
In November 2018, Zach moved into recovery housing in Ann Arbor – his home. With regular therapy and a new dream job as a research assistant, Zach was back to his big and bold personality and thriving!
He maintained sobriety for more than a year, but sadly on February 23, 2020, at only 27 years old, Zach died after ingesting a fentanyl-laced opioid.
"When you look at your sweet, funny, little boy having the time of his life playing in the dirt, you don't think he will one day develop a drug addiction. Everyone says 'That's not us. That's not my family'. But for us, it was."
Sue and her family have supported the Jamie Daniels Foundation since 2020 when they began an annual Thanksgiving football game in memory of Zach. Since then, they have raised more than $10,000 in support of the foundation's mission to reduce stigma and build recovery housing.
"We had many sober years of laughter and fabulous memories with Zach – he was my biggest protector and a great friend to many. We don't remember him for how he died, but for how wonderful he was, so every year we celebrate him with those who loved him most, doing what he loved most."
To make a gift in Zach's memory, please click here.
If you or a loved one is looking for help, please visit safelocator.org