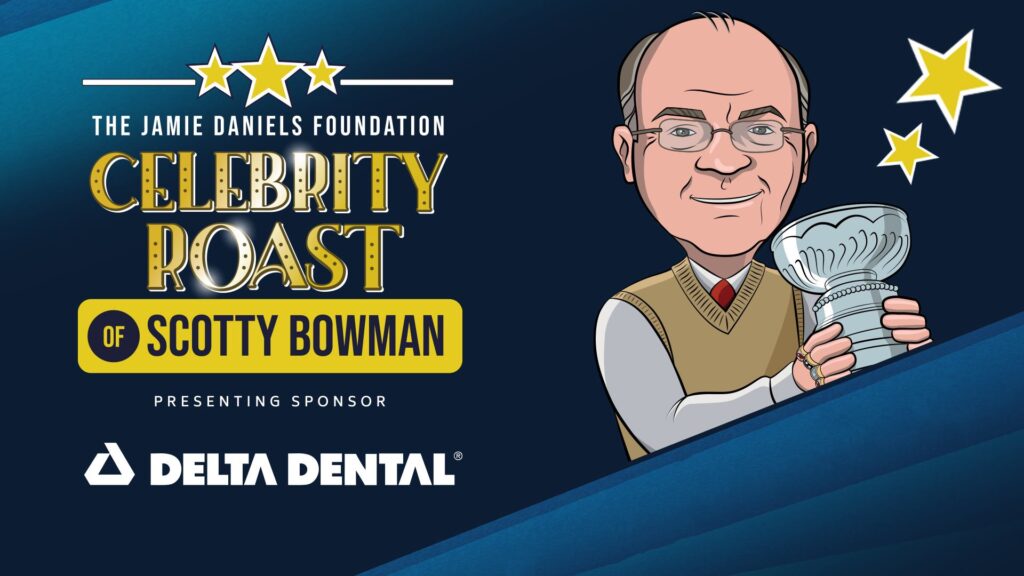 The second annual event will support the Foundation's mission to end the stigma around substance use disorder
Detroit, MI October 6, 2020 – The Jamie Daniels Foundation (JDF) is preparing for its second annual Celebrity Roast with the NHL's winningest coach Scotty Bowman as the target of jokes and toasts. Rather than hosting an in-person event, the program will be televised on October 14 at 8pm EST on FOX Sports Detroit and will also be available for online streaming at foxsports.com/Detroit. Viewers will be able to make instant online donations to the Foundation while watching on TV or online.
In addition to calling attention to the growing grip of substance use disorder in our society, especially during this pandemic, the program will also feature of laughs and entertainment a with a star-studded line-up of appearances including Wayne Gretzky, Jack Nicklaus, JK Simmons, Jim Leyland, Dick Vitale and several of the Red Wings players who won Stanley Cups while being coached by Bowman.
The event also includes a silent auction which is currently live, online, for bidding. Featured items include the opportunity to golf with Mickey Redmond, an Alaskan fly-fishing trip, an autographed Red Wings Tyler Bertuzzi jersey and more. Also, during the televised and streamed event The Steven Page Trio, led by former Barenaked Ladies front man Steven Page, will perform their song "Looking for Light."
The Celebrity Roast of Scotty Bowman is presented by Delta Dental.  "No matter where you live, no matter what your business and no matter your income, the opioids crisis affects you," said Margaret Trimer, Vice President of Strategic Partnerships for Delta Dental of Michigan, Ohio, and Indiana. "The widespread misuse of these lethal drugs, the ignorance about their addictive nature and the predatory practices of some medical professionals undermine families, cost businesses and take a toll on our community. Delta Dental is involved so we can engage our employees, customers, providers and the general public in solutions."
Proceeds raised during The Celebrity Roast of Scotty Bowman will support JDF's efforts to end the stigma associated with substance use disorder and provide the guidance and resources needed so that lives can be saved. In collaboration with The Children's Foundation, JDF's long-term goal is to build long term safe affordable housing for those in recovery as part of a collaboration with the State of Michigan. A facility like this will improve access to trustworthy substance use disorder treatment and recovery services in Metro Detroit.
Ken Daniels, lead announcer for the Detroit Red Wings, and Lisa Daniels-Goldman founded JDF in memory of their late son who struggled with substance use disorder. "They say the show must go on, and that's what we are doing with our 2020 virtual Celebrity Roast of Scotty Bowman," said Lisa Daniels-Goldman. "As the Covid-19 global pandemic continues, so does the nation's opioid epidemic. At the Jamie Daniels Foundation, providing resources, support and education is essential. We continue to be committed to overcoming the social stigma of substance use disorder."
###
About the Jamie Daniels Foundation
In 2018, Ken Daniels and Lisa Daniels-Goldman established the Jamie Daniels Foundation in honor of their late son, Jamie, who died from an overdose at the age of 23 while receiving treatment for a Substance Use Disorder. Despite the support of his family, Jamie's life was tragically lost due to substandard care and the predatory practices that exist in the billion-dollar substance use recovery business. Their hope is to save others' lives by providing education, resources, guidance and support to those struggling with substance use or know someone who is. The Children's Foundation is dedicated to advancing the health and wellness of children and families. With an area of focus on mental health, The Children's Foundation is collaborating with the Jamie Daniels Foundation to lead children and families on a path to a happier, healthier future. Learn more at www.JamieDanielsFoundation.org.
About The Children's Foundation:
The Children's Foundation, an independent community foundation for children, is the largest funder dedicated solely to advancing the health and wellness of children in the state of Michigan and beyond. Through fundraising, grant-making and advocacy The Children's Foundation enables researchers and community organizations to identify and implement innovations capable of advancing children's health and wellness. Since 2011, the Foundation has distributed more than 60 million dollars in grant funding to more than 100 partners throughout the state. Current initiatives of The Children's Foundation include Children's Hospital of Michigan Foundation, The Jamie Daniels Foundation and the Paul W. Smith Charities. Current areas of focus for the Foundation include mental health, nutritional wellness, abuse and neglect, oncology and cardiology research and injury prevention. Learn more at www.YourChildrensFoundation.org.